If you've got curly, damaged or color-treated tresses, you need an oil for highly-porous hair. You can either reach for sunflower oil or entrust your hairdo to a specialist, that is Moroccan argan oil. What will you gain?
Hair care equals trouble for many women. It's really hard to find a product which fulfils all needs of hair. If it's intensively repairing, it might weigh down the hair. If it aims at boosting hydration, it might have too little repairing power. If it strengthens the hair, it might not improve the appearance. There's an easy way to avoid the dilemma concerning the choice of the right hair products. Choose argan oil.
Argan oil. The best choice for hair
Why is natural argan oil the best for hair?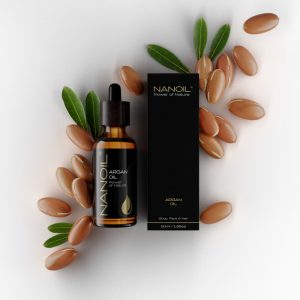 Most of all, because it holds the maximum number of perfectly-composed fatty acids. The ones that are essential for our hair and scalp because they rebuild and lock in moisture. The large concentration of omega-3 and omega-6 acids makes argan oil the best oil treatment for damaged and curly hair.
The key thing is the lightness of the oil which – despite including over 100 various conditioning substances – doesn't weigh down or leave hair limp but instead it is absorbed, working from within. Still, the essential thing is you know which argan hair oil is the best one. Not all argan oils work the same. Get the tried and tested one.
100% Nanoil Argan Oil
The fans of natural as well as effective hair care will love Nanoil Argan Oil which is exclusively made out of argan nut oil with the Ecocert label.
We should give its composition some attention even though it is just one substance. It's a natural, cold-pressed, unrefined argan oil and thanks to this form of extraction, it's an organic product which doesn't lose valuable nutrients included in Argan nuts. Another noteworthy feature of Nanoil Argan Oil is being free from parabens, silicones and artificial fragrances. It is a lightweight oil which has a natural color and aroma. This naturalness gives us lots of benefits.

Nanoil Argan Oil Effect
Natural argan oil is often used in hair care, mostly for damaged, curly, color-treated hair. You should use Nanoil as a hair oil treatment and a hairstyling agent because:
it moisturizes, nourishes and repairs
it soothes irritation on scalp
it protects against the sun and heat
it prevents hair breakage and splitting
it enhances a natural hair color and shine
It's a great thing that you can use Nanoil Argan Oil for skin on your body and face, as well as for nails. Thanks to Nanoil's multi-purposeness, you can use it in daily care and notice that:
it delivers water and precious ingredients to skin.
it makes skin soft, smooth and radiant.
it delays aging e.g. eliminates wrinkles.
it alleviates various types of skin irritation.
it improves skin tone by reducing hyperpigmentation.
it strengthens nails, preventing breakage.

Does it make a good choice?
Nanoil Argan Oil works well whenever you need natural support, nourishment and protection. You don't need to use it merely for hair. Let it enhance your body, face, nails. It's an only such original oil that each of us can have at home.
You're one click away from this all-purpose marvel: nanoil.us/argan-oil.